M.J. van Riel chooses Broshuis PL2 HD
The latest addition to the already large fleet of M.J van Riel from Tilburg is a Broshuis 2 + 4 PL2 pendle axle low-loader. Last week the impressive low loader was collected from Kampen.
The customer M.J. VAN Riel, is well known for factory relocations, special transport and mobile crane operations, as invested heavily in new equipment over the last few years, to enable them to give their customers a safe and reliable service. The Tilburg family business is growing rapidly and involves the entire company in their many projects.
" We know exactly equipment we have, so we are aware of what we are missing" says Martin van Riel. "If you have certain contracts and you have to use equipment that's not suitable it means that you are not working efficiently and compromising on safety, for this reason we have now purchased a Broshuis 2 + 4 low- loader that can be used as 4 axle low-loader."


Van Riel researched the trailer market looking for a strong and reliable partner and decided on Broshuis." Together consulting with Broshuis we have come to this satisfying result. When buying a large trailer like this one you must have confidence in the product as well as the manufacturer building the product. This includes the latest state of the art technology, innovation, conservation and importantly the finish which we as a company take pride in the appearance of our equipment."
The new 2 + 4 pendle axle lowloader is equipped with the latest PL2 HD pendle axles. These are the latest generation of pendle axles on the market and are produced entirely in house by Broshuis. Partly due to the large order from the US Military, the quality of these pendle axles have been tested to the limit.
" We think it is great for customers that they can also benefit from this exceptional quality," says Pieter- Bas Broshuis " It was the ultimate opportunity for us to develop our pendle axles properly and have them tested at the same time. Our pendle axles have been tested to the maximum and have proved to be of the highest quality. I think its very good to be able to offer this proven product to our civilian customers."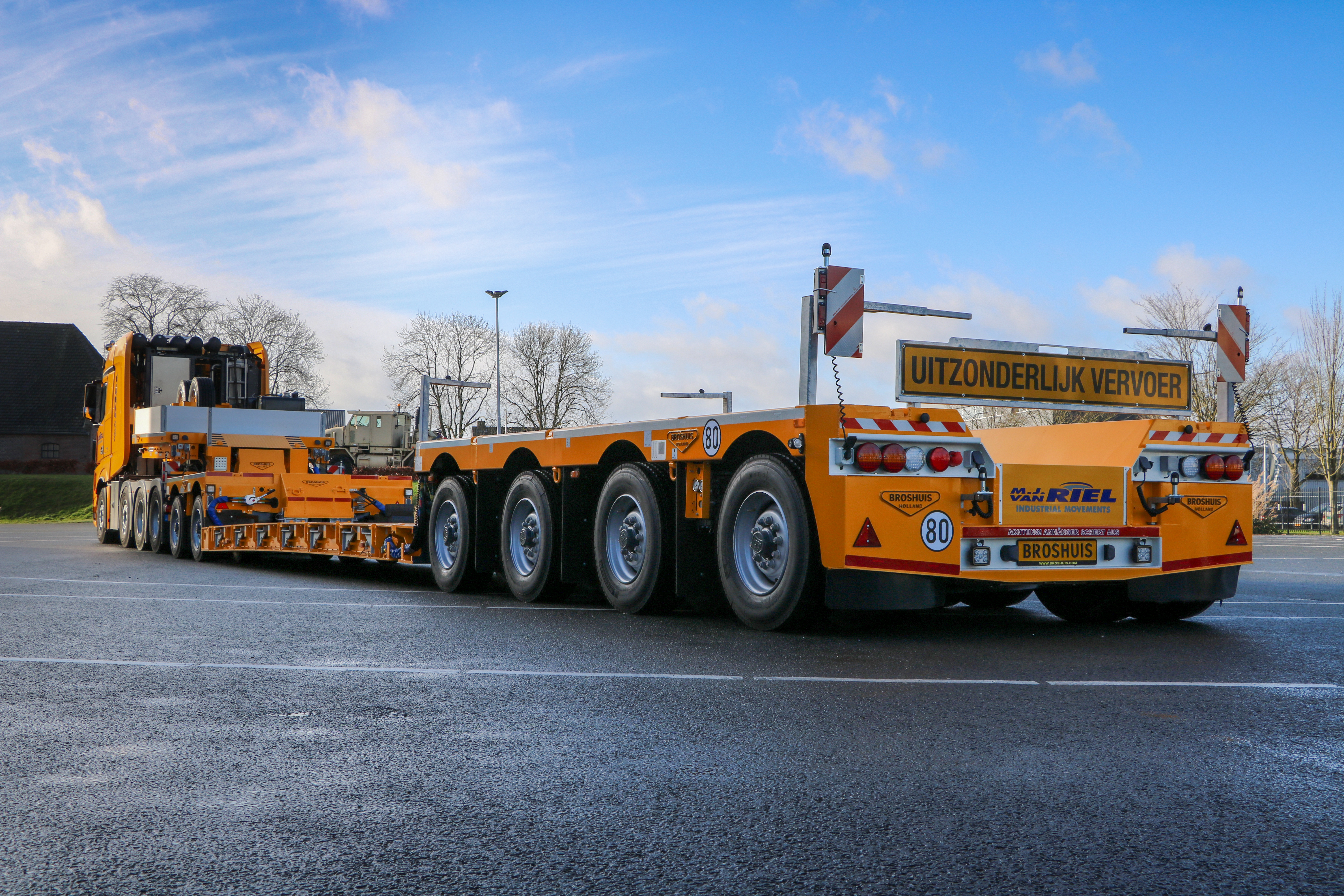 "The choice of Broshuis was not difficult," says Van Riel. "In addition to the trust in the brand, both companies and owners showed the same rapport. I often do things on feeling and intuition. At Broshuis you can almost blindly assume that the product and company will not let you down. Something that we, as Van Riel, also value ourselves."
The new low-loader is equipped with a two axle dolly which is mounted between the gooseneck and the lowbed. This dolly has a completely flat surface so van Riel can both use it to support the load and it is quickly detachable so the trailer can be used as a four axle low-loader. The low-loader also has a 900mm wide crane arm recess in combination with a 2850mm rear bogie width. "We need flexibility" says Gerwin Boemaars project manager of M.J, van Riel. " Its is great that we can leave the dolly at home if we don't need it. We will no doubt have a lot of fun with this new low-loader exploring all it's possibilities, including using the very shallow floor and a combination with a low tare weight. With a 29,000kg tare weight this one of the lightest low-loader dolly combinations of its kind."